By dave | January 20, 2016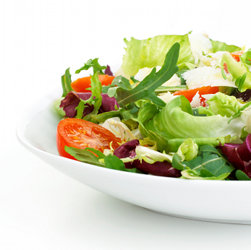 On this page we provide portion sizes for some common foods. Although currently we only have portion sizes for a small number of foods, we give the following guidance.
A fresh fruit or veg portion is normally about 80-100g and this would normally count as one of your daily intake. A single glass of fruit juice such as orange is also considered as one portion, but only one glass as there is no fibre in juice and a lot of sugar.
Lentils and pulses are also really good for you and count towards a portion of veg. Personally, I think that the guidelines may be different in every country but one thing is clear: Worldwide, people are asked to eat enough fruit and veg.
Below there are two converters, one can convert between common weights, and the other can convert betwen common liquid measures.

## Common portion sizes
| Food item | Portion size |
| --- | --- |
| Root vegetables (carrot, turnip) | 2 or 3 tablespoons |
| Green Vegetables | 2 or 3 tablespoons |
| Salad leaves | Large cereal bowl |
| Fruit or vegetable juice | 150ml - 250ml glass |
| Very Large fruit (melon) | Large slice |
| Large sized fruit (apple, orange) | 1 fruit |
| Medium sized fruit (plum) | 2 fruits |
| Small sized fruit (berries) | Handful |
| Canned Fruits | 3 tablespoons |
| Dried Fruits | 1 - 1.5 tablespoon |
| Nuts and seeds | Small handful |
| Peas beans, lentils | 2-3 tablespoons cooked |
| Grains - cooked | 2 or 3 tablespoons - heaped |
| Rice - cooked | 2 heaped tablespoons |
| Pasta - cooked | 5 - 6 tablespoons |
| Cereals - breakfast | One regular bowl |
| Bread | 2 slices |
| Bananas | 1 medium |
| Starchy Roots - Potato | 1 medium |